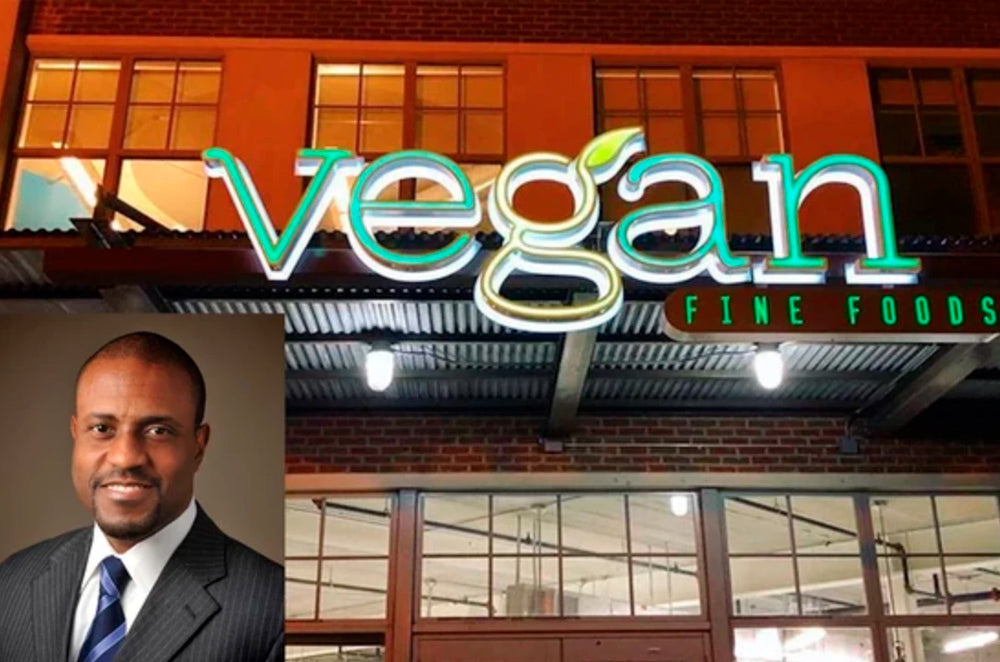 At Vegan Fine Foods you can find something for everyone
The Vegan Heroes Series highlights the leaders in the world who are doing distinguished work to accelerate the vegan movement and building our shared vision of a healthier, more compassionate, and sustainable world. 
In our first edition, we'd like to introduce you to Dr. Steven Smith, Founder & CEO of the All-Vegan Supermarket Vegan Fine Foods.

As a long-time vegan, Steven set out to create a place that vegans could shop and dine confidently without having to read labels and research ingredients.

Steven also aimed to foster an environment where anybody could come in, feel welcome, and enjoy a wholesome meal and experience plant-based products.
The greatest part of it all: Steven reports that over 50% of his customers are non-vegan, which demonstrates the rapidly growing demand for plant-based products among all diners alike.
How it all began
"Starting to go vegan in 1997: While searching for plant-based alternatives, I had to go to multiple stores to find the products I wanted. On top of that, I ​spent an incredible amount of time reading product labels to make sure all the ingredients were plant-based. Doing this every week turned out to be a problem. I ​knew others were experiencing the same challenges in finding quality vegan products in traditional grocery stores. 
The seed was planted. I knew the solution: an all-vegan grocery store where customers would find a variety of products that were certified vegan, providing a sense of relief and comfort to vegans, vegetarians, and flexitarians. That was the birth of Vegan Fine Foods. It was time to develop the plan."
-Steven Smith, Founder & CEO of Vegan Fine Foods
About Vegan Fine Foods
Located on the corner of SW 2nd Street and SW 4th Avenue in downtown Fort Lauderdale, Vegan Fine Foods offers a 100% Vegan Shopping Experience.
The business is separated into three main categories:
1. Vegan Fine Foods - 100% Vegan Everything. The store's stock has an array of over 4,000 vegan grocery items including vegan snacks, vegan cheeses, mock meats, ice creams, and more! Customers no longer have to wonder if the foods they buy are are vegan or not. 
2. Vegan Fine Cafe - Their on-site vegan café includes a wide selection of menu items including smoothies, açaí bowls, salads, burritos, burgers, sandwiches, hot plates, and much more.
3. Vegan Fine Body - This new all-vegan and cruelty-free health & beauty care boutique is now an integral part of Vegan Fine Foods. It offers customers a variety of high quality products including vitamins, supplements, superfoods, body care, hair care, facial care and make-up. The first location is right next door to the Vegan Fine Foods market in Fort Lauderdale, FL.
Growth of Vegan Fine Foods
After selling $1.2 million of vegan products at their first location, Vegan Fine Foods has plans to expand through franchising opportunities, e-commerce, and its own branded line of Vegan Fine Foods products.
1) Expand Vegan Fine Foods: They have plans to introduce delivery services, hold more events, and market their business to grow their flagship location.
2) Vegan Fine Foods Online: With the investment money they are currently raising, they are building out a full-service ecommerce store where they will be selling vegan grocery items, health and beauty care products, and other vegan accessories. This will offer national and international shipping. 
3) Vegan Fine Franchising: With plans to reach 100+ locations nation-wide, they feel it is best to allow other entrepreneurs to bring a Vegan Fine Foods to their city. 
4) Vegan Fine Products: To increase their impact, they plan on releasing their own line of Vegan Products, including Vegan Fine Wines (pictured below).
Investing in Vegan Fine Foods:
In 2019, Vegan Fine Foods opened the doors for Accredited and Non-Accredited investors alike through their WeFunder Crowdfunding Campaign. For as little as $100, customers, investors, and fans can help Vegan Fine Foods achieve their ambitious growth plans of opening more than 100 franchise locations across the U.S.
Here at VegReady
We are dedicated to disrupting the food system and making healthy, plant based meals available at the click of a button. We're proud to support activists like Steven who are working to make veganism accessible to everyone.
Feel free to subscribe to our email newsletter to get notified of our newest list of Vegan Heroes.
 Location: 
330 SW 2nd Street
Fort Lauderdale, FL 33312