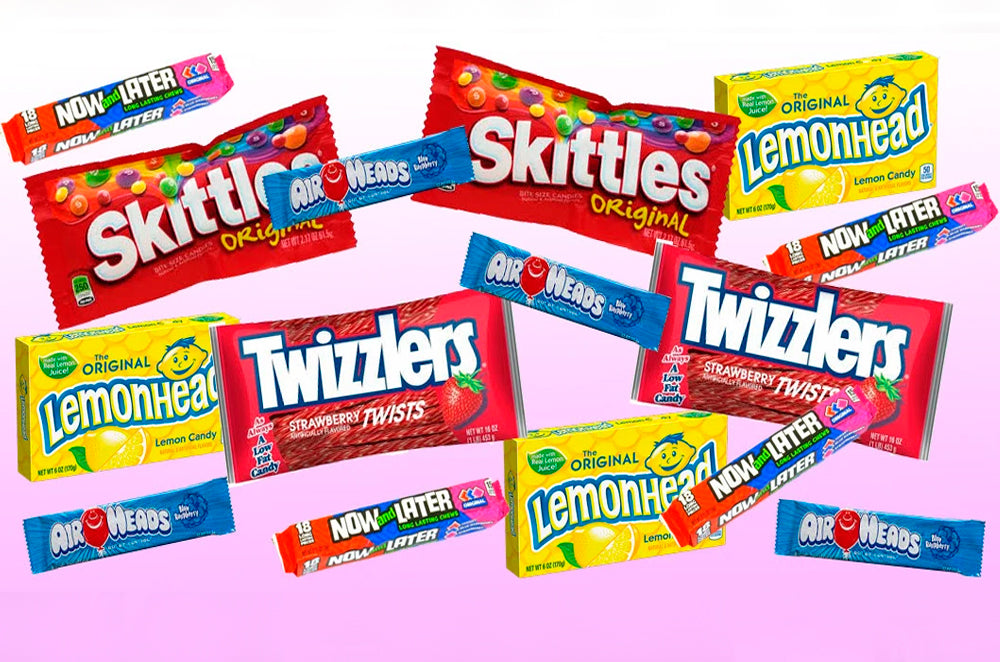 Ultimate Guide to Vegan Halloween Candy
'Tis the season to binge-watch scary Halloween movies, dress up in silly costumes, and shamelessly eat handfuls of your favorite candy.

Though you may not realize it, many of the candies you love are already vegan!
With all of the goodies suitable for vegans, there's no reason to miss out on any  Halloween festivities.

Keep in mind, however, that several candies do contain ingredients derived from animals. Beware of spooky ingredients this Halloween with our comprehensive list of vegan candies.
Creepy ingredients to look out for:
Egg-

Egg whites (albumin) and yolks from chicken eggs are sometimes used as a food binding agent. 

Milk

- Most traditional chocolate candies contain some derivative of cow's milk. Keep reading to find out which chocolates are dairy-free!

Gelatin-

Many gummy candies contain gelatin, a protein derived from collagen in the bones, skin, and connective tissue of cows and pigs.

Food dyes-

Certain food dyes are extracted from insects. For example, red food dye (also called Carmine, Natural Red #4, Carminic Acid, or Cochineal Extract) is made of crushed beetles.

Shellac-

The hard, shiny shells on candies are often made from shellac, the waxy resin secreted from the lac bug.

Lanolin-

This greasy secretion from sheep's wool is often used as an oil or wax in certain gums and candies.

Honey- Honey from bees is sometimes used as a sweetener on nuts and candies.
Here, we've compiled a list of candies that are free of animal products. Many of these are "accidentally vegan", meaning they happen to not contain any animal products but were not intentionally produced to suit vegans.
Vegan Halloween Candy
1. Twizzlers
2. Sour Patch Kids
3. Swedish Fish
4. Jolly Ranchers
 5. Skittles
6. Smarties
7. Air Heads
8. Sweet Tarts
9. Dum Dums
10. Fun Dip
11. Nerds
12. Now & Later
13. Fruit Roll Ups
14. Laffy Taffy (FUN SIZED)
Note: The fun-sized versions of Laffy Taffy are vegan-friendly. But, be cautious with the larger versions, as they contain eggs.
15. Blow Pops
16. Candy Corn
Note: Many of YumEarth's other products are vegan, but check individual packaging to be safe.
17. Surf Sweets Gummy Worms

(available on Amazon)

Have no fear, chocolate lovers. Below, you will find several options that will satisfy your sweet tooth. No witchcraft here! 

 
18. No Whey Foods

(available here)

No Whey Foods has several options to choose from including many fall favorites: peanut butter cups, chocolate squares, and more! Sign up for their email list and get 10% off your order today.

19. Unreal Candy: Dark Chocolate Peanut Butter Cups
20. Justin's Dark Chocolate Peanut Butter Cups
Note: Only the dark chocolate version are vegan
21. Cleo's Vegan Milk Chocolate Peanut Butter Cups
22. Go Max Go Foods

Note: Go Max Go is an all-vegan brand and their products are delicious!
23. Enjoy Life Rice Milk Crunch Bar
Note: All of Enjoy Life's products are vegan and allergy friendly
24. Little Secrets' Dark Chocolate Crispy Wafers
Available at Whole Foods and Stop & Shop
25. Cocomel's Coconut Milk Caramels
So there you have it: 25 candies suitable for those on plant-based diets.
We hope you found something on this list that fits your fancy. So go grab your favorite candy bar, let your inner child come out, and boogie down to the monster mash!

What are you cooking up in your cauldron this Halloween?