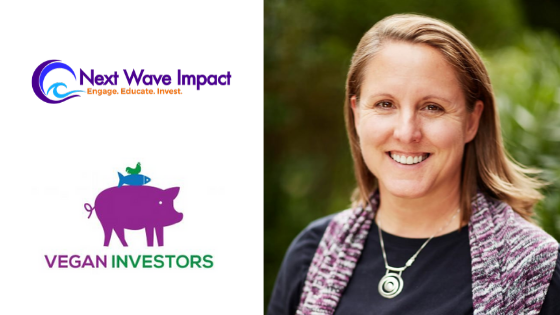 Why did this professional investor start an Angel Group and a Venture Fund?
Scroll down to see video


(Hint: to fix the early-stage 

investment ecosystem). 

In this interview I speak with a leader in the plant-based movement about founding both VeganInvestors.com and NextWaveImpact.com

She's my good friend, Alicia Robb.
Alicia founded an Angel Group to find, support, and invest in early-stage scalable companies, which contribute to a more sustainable and compassionate world. 
Feel free to watch the video interview or read the text interview below.
Mark (VegReady CEO): Why don't you start by giving us a little update on what you've been up to and what you're working on?
Alicia: Quick summary of me: I started an early-stage Venture fund investing in women-led and minority-led companies that will have an impact. I got into Venture Capital in a different way than the traditional path. I'm actually an Economist by training with my PhD in Economics -- but I focused on entrepreneurship and entrepreneurial finance.
I started at the Federal Reserve Board of Governors doing small business financing. Then I moved to the Kauffman Foundation to do entrepreneurial finance which is where I got into research and policy around crowdfunding, angel investing, and Venture Capital. 
My new fund is called NextWaveImpact.com, it tackles the problem in the Venture Capital world that over 97% of the people on the funding side are white men funding other white men. Our goal is to create a more inclusive ecosystem by investing in women and people of color (as of today they get less than 3% and 1%, respectively of Venture Capital). Our fund also trains the new wave of women and people of color on impact investing.
Mark: In addition to being more fair, hasn't it been shown that inclusivity of minority and women executives produces better outcomes for growing companies.
Alicia: Certainly. Diverse teams with diverse leadership and diverse boards do better. And we need to make sure that all good ideas get funded.
Mark: Tell us about your Angel group VeganInvestors.com and how grew out of Next Wave Impact?
Alicia: As you know, the difference between an Angel and Venture Capitalist is that the former invests his/her own money, and the latter invests other people's money. 
Next Wave is a Venture Capital fund focused on impact investment and is sector-agnostic. We do have a vegan company in our portfolio, but it's not our main focus. 
I'd love to have a Vegan Venture fund, but as of right now, I only invest my personal money into vegan-led vegan companies. So that's why I wanted to start a vegan angel group of like-minded investors so that I could co-invest with other people that also want to invest in vegan-led vegan companies. In other words, VeganInvestors.com focuses on funding early-stage vegan companies in their pre-seed or Seed Round, while my Venture fund might invest at a later phase.  
The other reason I started VeganInvestors.com is because Angel Investors like me, need to diversify and therefore like to write small checks (say, $5-$10 thousand) for many companies. But Many entrepreneurs require the minimum investment in their early-stage rounds to be $50-$100 thousand, and at that level it's hard for an individual to diversify into dozens of companies. So, we aggregate small investments from a number of angels into a Special Purpose Vehicle that makes the investment with the company. That way the total amount meets those thresholds and there is only a single entry into their capitalization table. This cleaner cap table is preferred by entrepreneurs and later-stage investors alike.
Mark: For any interested Angels, where can they learn about your group and either join or request to be invited? 
Alicia: They should go to VeganInvestors.com where it's free to register and they will get invited to our bi-monthly presentations where we invite 2 companies to pitch. That way, they can start getting involved with our Angel group.
Mark: Now, let me ask you about your fund Next Wave Impact fund. What's the size of and how do you see it going over the next couple of years? 
Alicia: Our fund is structured a little bit differently than others. We grouped together 99 early-stage investors, all women (and 25 are women of color) because our mission is to diversify the investment ecosystem to create more inclusivity and prove it produces superior returns as well as positive impact. We have an investment committee of nine that mentors and trains investors that are newer -- so it's learning-by-doing fun.
Our Investor Education page has materials and Webinars, short briefs that teach all about cap tables, dilution, due diligence, you name it! The idea is that the fund's members participate through all the processes of an investment -- from screening to due diligence -- to investment on a volunteer basis. So it's a way to really learn how to do it without doing it on your own. And the big bonus is you're getting a diversified portfolio through learning-by-doing. And not only that, because our 99 women are spread across the globe we're able to source deal flow from sectors and geographies that most funds cannot reach. 
Mark: I wanted to hear your thoughts on Crowdfunding. Does it fit in with your plan to  close the gender and minority gap in the investment ecosystem?
Alicia: Yes. Certainly there's advantages and disadvantages - personally, I'm a huge fan for reward-based Crowdfunding when it's used for pre-purchase models. That's a great way to show product market fit and more investors are asking for entrepreneurs to do Crowdfunding because of this. (I know VegReady did this). Debt crowdfunding [and equity Crowdfunding], are used by more Main Street businesses that aren't going to have an exit [through acquisition or IPO]. Crowdfunding in general is a way to merge human capital with financial capital. Certainly it democratizes access to investments for the public to invest in early-stage. But it's not necessarily always the best for entrepreneurs. It is also another  path for small Investors to 'get their feet wet' who don't want to invest $25,000 in every deal. [Typical Crowdfunding minimum investment is $50]
Mark: Are there any surprises in the Alicia Robb world that we should be watching for? Is there another book in your future after 'The Next Wave' which details the need for funds such as yours?
Alicia: 'The Next Wave' was actually my fifth book. Someday I'll probably write another one, but they've all been co-authored with my amazing co-authors. Right now I'm really excited about the idea of creating new investment models to address inequalities in the world of investing. We're looking to focus more for pre-seed investments into Founders of color, and really get them to the point where they're investable by later-stage funds like ours.
Mark: What's the management going to look like in this scenario? 
Alicia: Great question. So, we expect the Investment Committee to be one thirds to one half women of color. And I think the entrepreneurs are really looking for that as well because you know besides our checks they are actually wanting the human capital that comes with our money. Having 99 connected business women ready to reach into their contacts to help you succeed is a strong asset for growing companies needing introductions to great talent, strategic partners and potential customers.
***
* Responses have been edited for length and style.
**Image credit: VeganInvestors.com