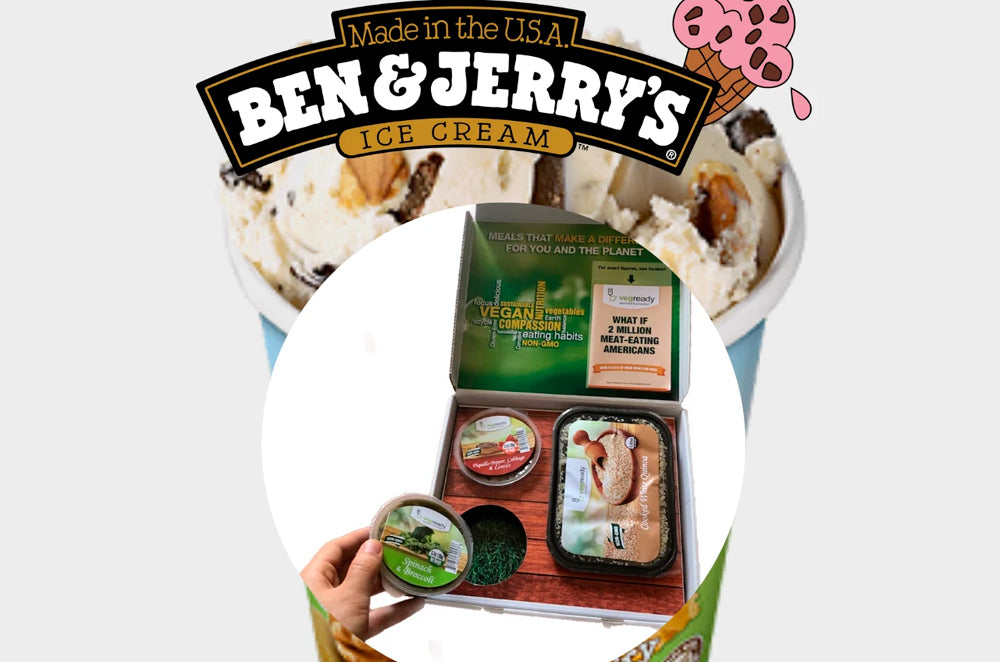 Former Ben & Jerry's Board Member Invests In Veg Ready
Social Investor Terry Mollner, Previously an 18-Year Board Member of Ben & Jerry's Invests in VegReady and Joins Our Team on Our Board of Advisors
'The world's going toward vegan. I was never expecting to invest, but companies like VegReady present an opportunity I just couldn't pass on. I'm sure this is the first building block to something special."
This is what Terry Mollner, founder at Trusteeship Institute, Calvert Social Impact & published author on Responsible Investing, said in a statement to VegReady.
A Little About Terry
Terry has over 40 years of experience in Social Responsible Investing, and has even mentored Beyond Meat's Seth Goldman.
This is no run-of-the-mill wealthy individual. Terry is actually interested in bringing value to the plant-based transition and hence why, even after retirement, he's bringing back his know-how & investments to young up-and-comers like VegReady. All with the intent to disrupt the ready-meal industry.
Terry was the key negotiator in Ben & Jerry's sale to Unilever, who then asked him to keep his role as a Board Member to insure the success of the acquisition. With this in mind, he definitely has a thing or two to teach the next generation food company, VegReady about Social Responsibility.
Why Are People Interested In VegReady?
VegReady wants to follow the steps of Beyond Meat and others in creating successful Vegan companies. 
To give a quick insight into what VegReady offers, we're a Vegan Ready-Meal company which is actually Ready To Eat. Yes, no cooking or refrigeration needed anymore. And it's healthier than most options out there, especially if you're a fast-food lover.
Terry is a longtime friend of our Founder & CEO, Mark Perlmutter. With a team of digitally nomadic millennial activists, our company has the best of both worlds. Our goal is to remove 1,712,454 animals from the food chain yearly by making delicious, affordable and easy plant meals for 2 million meat-eaters to enjoy twice a week.
For those who don't know, Mark is 68, vegan, activist, creator of the vegan documentary 'Simply Raw: Reversing Diabetes In 30 Days', viewed by 2 million people.
However, Mark felt he needed something so convenient to soar high on the food industry and thus make more people embrace plant-based: and that's how VegReady started.
By working with food engineers the idea for a pre-cooked, delicious, non-perishable mealboxes came to him, VegReady was finally a hit. A ready to eat meal would help solve the problem faced by millions of Americans when trying to take the first step.
As we progressed, we got funded in Kickstarter & Mark went to Peru (the first country to ban GMO imports) to begin production of these affordable, plant-based meals. They contain delicious, healthy Peruvian grown quinoa and vegetables.
"I've seen most Americans struggle with all-or-nothing diets, and those really don't help them succeed. But anyone can replace just two meals per week, it's much easier than changing every meal. VegReady is healthy fast food. And with my colleague Terry we're on a mission to make the world better."
Mark Perlmutter, Founder & CEO, Veg Ready, Inc.
Veganism & Capitalism
You would be surprised with how many leading vegans relate to this mindset. That's why we have been endorsed by Cowspiracy's director Keegan Kuhn, PETA founders, MFA, F.A.R.M Animal Rights Conference, Happy Cow & many others. With this milestone, we're one step closer to building a company that makes right: using real food with no suffering to change people's food habits for the better.
As Mark understands that 'the best parts of capitalism need to embrace activism', VegReady is excited to bring Terry and other investors on board to help this company grow.
Our customers may become volunteer brand ambassadors to help spread the word among their friends & family.
Take a look at our meals at:  www.VegReady.com